| What do you expect? | Member Benefits |
When you turn on your TV, what do you expect?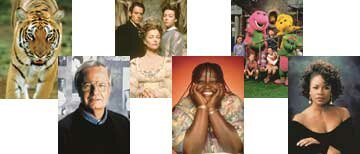 VARIETY?
Sometimes you're hungry for beautiful music or a good story. Occasionally you're starved for a laugh. But you almost always crave something that will fill you ... with joy, awe, knowledge, reverence or just relaxation. In other words, you want a programming menu that features all sorts of pleasing options.
ENTERTAINMENT?
"Entertainment" isn't a dirty word! Television that doesn't entertain its audience is commonly described as "boring." Good television is entertaining, but it allows you to experience so much more. When you enjoy good drama, uplifting music, intriguing history, informative home improvement or awe-inspiring cinematography, you're engaged in an experience that's more than just entertaining.
INSPIRATION?
When a television show is so well-done that you're inspired to read a book or see an opera or re-do your kitchen or travel to a place you've never been, that's inspiring television! Television can act as a catalyst to fuel creativity and to feed your spirit of adventure to try new things and think in new ways.
INTELLIGENCE?
What does intelligent television programming look like? It's thoughtful discussion among bright people. Compelling storytelling. In-depth exploration of subject matter. You're not asking too much from your TV; you're simply asking it to live up to its potential.
RELIABLE INFORMATION?
To exercise your rights as a citizen and a consumer, you need reliable information. Television can provide that service. Whether you're preparing to vote in an election, getting ready to remodel your family room, or wanting to learn more about American history, good television programs can help you find the information for which you're looking.
PROGRAMMING THAT'S GOOD FOR CHILDREN?
Parenting is hard enough. Television shouldn't make it harder. You expect children's programs to entertain and educate young viewers. Commercial-free, non-violent television programs for children can actually help to get preschoolers "Ready To Learn" and develop their literacy skills.
THAT WHEN A PROGRAM IS OVER, YOU'RE GLAD YOU WATCHED?
Have you ever watched a television program that was so good you lost track of time? Television should be worth watching. And when the program is over, you can savor the spectacular cinematography, the fabulous music, or the impressive storytelling.
EXPECT ALL THIS AND MORE ... ON PBS 45 & 49
We're viewer- supported television.
Your membership makes "Television at Its Best" possible on PBS 45 & 49.
Please join today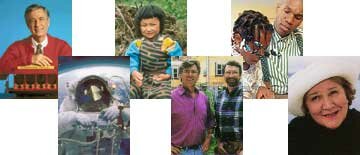 Expect Television at Its Best.
You trust PBS 45 & 49 to broadcast a wide variety of programs that teach, illuminate and inspire. Antiques Roadshow, American Experience, This Old House, ExxonMobil Masterpiece Theatre, NOVA, Nature, Washington Week and Great Performances are just some of the regularly-scheduled, award-winning television series that enhance your life.
Expect PBS 45 & 49 to help get children "Ready To Learn."
Parents have trusted PBS's outstanding children's programs for two generations. You trust PBS 45 & 49 to get preschoolers ready to start school with series such as Arthur, Sesame Street, Mister Rogers' Neighborhood, Clifford The Big Red Dog and Barney & Friends. Our stellar line-up of children's series is educational, non-violent and commercial-free. In addition, our Ready To Learn trainers have already shared with over 2,000 parents and caregivers (who influence over 20,000 preschoolers) ways to use our children's series to "extend the learning" beyond the TV set through related hands-on activities and reading.
Expect education, culture and citizenship to be delivered into your home every day.
The entire American public has access to the informative and enlightening programs found only on PBS. No one uses technology for education and lifelong learning more effectively. PBS 45 & 49 reach over 560,000 people each week; we serve 252,000 students and 19,000 educators with educational technology training and instructional television; and we operate outreach projects that tackle society's greatest concerns, such as school readiness, the environment, youth violence and health.
Expect the Best.
No matter how many off-air and cable channels exist, PBS still sets the standard for outstanding television and local outreach services. Every year PBS receives dozens of prestigious national and international awards celebrating its achievements, and stations like ours extend the value of PBS programs through educational community projects. PBS means "the best."
Support Television at Its Best
A Subscription to The Alternative.
When you join PBS 45 & 49 at the level of $35 or more, you'll receive our members'-only program guide every month for a full year. Inside, you'll find day-to-day listings of our programs; articles about new series and specials; advance notice of special events; station news; offers for special member discounts; and more!
The PBS 45 & 49 MemberCard
If you pledge $60 or more, you'll automatically receive the PBS 45 & 49 MemberCard. You'll enjoy discounts at selected area attractions and over 120 restaurants in northeast Ohio and western Pennsylvania. Your PBS 45 & 49 MemberCard also entitles you to a 15% discount off the retail price of selected Thank You Gifts we offer during membership campaigns. The PBS
45 & 49 MemberCard is the only plastic card in your wallet that will SAVE you money!
A Voice in the Programming
As a member, you'll vote in our Member Preference Poll. We keep track of which programs are most valued by our members, and we use the information to make decisions about purchasing specials and series for the coming year.
Advance Notice of Special Events
PBS 45 & 49 co-sponsor community events all year long, including children's events such as KidsFair Akron and the Mahoning Valley Parent Fun Fair. We also host appearances by celebrities from our programs and we present outreach seminars such as On Our Own Terms. You'll know in advance what's on the PBS 45 & 49 Special Events calendar.
A Very Good Feeling
When you join PBS 45 & 49, you'll enjoy the satisfaction of supporting an essential community resource for entertainment and lifelong learning. Your contribution helps to guarantee that Television at Its Best will have a home on PBS 45 & 49.
For more information, call us at
Email
Download our Membership Form