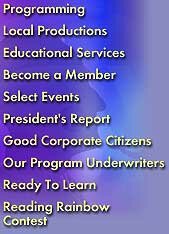 The Learning Triangle
Watch, Do & Read
PBS 45 & 49 encourage you to use "The Learning Triangle" when you watch our children's shows with your preschoolers. After you WATCH a program, try to DO a related hands-on activity and then READ a related book.
Themes
- I Can do it by Myself (Winter 2004)
- Poetry (Fall 2003)
The Learning Triangle is written by Bree Silski, PBS 45 & 49s Ready To Learn Coordinator
---
Monday, Jan. 26 at 11 am

This story by Marissa Moss is about a little girl who feels insecure about creating a picture and how she learns to create art in spite of making a mistake.
Mister Rogers' Neighborhood
Weekdays at 1 pm
Monday, Feb. 2 - Friday, Feb. 6
Theme: Art

Monday, March 8 - Friday, March 12
Theme: No and Yes

March Monday, 29 - Friday, April 2
Theme: Making and Creating
Do
Lacing Shoes
Materials:
Assortment of shoes or lacing cards
Shoelaces
Children can practice taking the laces in and out of the shoes or cards. Lacing takes patience and practice, so children need plenty of time to feel the laces and get used to putting them in tiny open spaces.
Things I Can Do
Have the children tell you about things they can do all on their own. You may also want to make a list of things they tell you they need help with. It's important to help them feel good about their accomplishments, but it's also important to reassure them that it's okay to ask for help as well.
Hammer and Nails
Materials:
Thick foam board
Wooden spoon
Golf tees
Have the children practice "pounding nails" by pounding the golf tees into the foam board. Children feel so good about being trusted enough to try pounding activities. Activities like this one really boost self-confidence.
Read
Amazing Grace By Mary Hoffman
Click, Clack, Moo: Cows That Type By Doreen Cronin
How Kids Grow By Jean Marzollo
Leo the Late Bloomer By Robert Kraus
Poetry can be fun for all ages. Children love the rhyming text and whimsical feeling of poetry. This fall, have some lyrical fun with the following books, programs and activities.
Watch
Between the Lions: Tweet, Tweet
Wednesday, Aug. 27 at 9:30 am
Monday, Sept. 2 at 9:30 am
Reading Rainbow: My America: A Poetry Atlas of the United States
Tuesday, Sept. 9 at 9 am
Reading Rainbow: Our Big Home: An Earth Poem
Monday, Sept. 15 at 11 am
Do
Jump-Starting the Imagination
To help children with rhyming or poetic ideas, try this fun activity to get the creative juices flowing. You can do this over and over. Just change the original word or sound.
Choose a word (example: hat).
Have the children list or name as many words as they can that rhyme with "hat."
Then have the children choose two of those words. Draw a picture of the two chosen words.
Finally, have the children write or say a crazy, silly sentence that uses as many of the words off of the original list. Remember to stress to children that the sentence does not have to make sense it's just some silly rhyming fun!
Illustrate a poem
Crayons, markers, chalk and paint provide an infinite number of creative possibilities in the hands of children, and we encourage you to use them. In addition to the old stand-bys, here are a few ideas for illustrating techniques that may be new for your child.
Mixed Media Children could try mixing pen, marker, paint, paper, layering, etc., together in creative ways. For example, a painted illustration could be enhanced with pen or marker touches; a layered paper drawing could have painted figures.

Sponge Prints Cut sponges into shapes. Dip in paint; press evenly on paper.

Potato Prints Cut a large potato in half, then carve patterns on the wet, flat surface. Dip in paint; press evenly on paper.

Layering Cut out or tear shapes in various colors and textures of paper or other materials. Layer these to create feeling and contrast.
Read
All the Small Poems and Fourteen More by Valerie Worth
Dog Days: Rhymes Around the Year by Jack Prelutsky
Gathering the Sun: An Alphabet in Spanish and English by Alma Flor Ada
Hailstones and Halibut Bones: Adventures in Color by Mary O'Neil
Harlem by Walter Dean Myers
My Shadow by Robert Louis Stevenson
My Very First Mother Goose by Rosemary Wells
Sing a Song of Popcorn: Every Child's Book of Poems by Beatrice Shenk De Regniers, Marcia Brown and Mary Michaels White
You Read to Me, I'll Read to You: Very Short Stories to Read Together by Mary Ann Hoberman